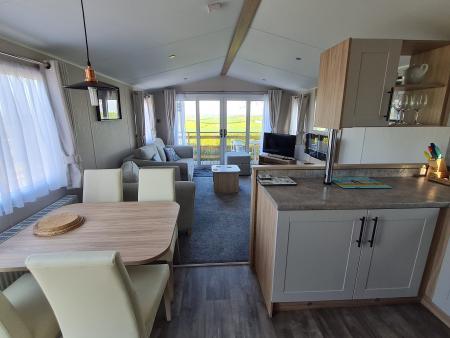 New Static Caravans
For 2022 we have 2 brand new caravans for hire. These are spacious 2 bedroom vans, the main bedroom has a kingsize double beds and ensuite toilet. There is a fully equipped kitchen with large fridge/freezer, full size cooker and microwave. The lounge/diner has free standing furniture, flat screen TV and electric fire. To the rear is a patio door giving views over the valley to the west and leading to a small private deck area where you can watch the sunset while enjoying a Gin and Tonic (not supplied). This deck is addition to the huge south face deck.
20th March 2022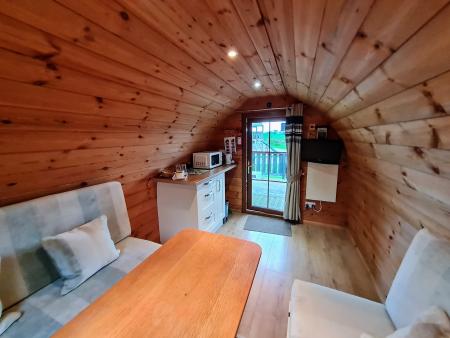 Pods
Our camping pods have had an upgrade for 2022. They now come with fridge, microwave, kettle and toaster and a new worktop area.
11th February 2022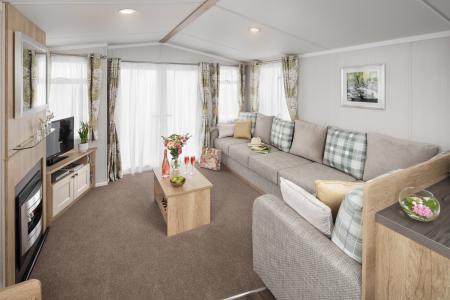 New Holiday Homes
New for 2019 we have 2 brand new 6 berth holiday homes. We have positioned these facing over the valley to the west so you can sit in the lounge and enjoy our fantastic sunsets through the large picture window.
The caravans have large lounge/dining areas, a large picture window to take advantage of the new view, a fully fitted kitchen including full height fridge/freezer. There is 1 double room and 2 twin rooms, 2 bathrooms and these are fully winterised with central heating, double glazing and insulation. Decks are south facing so get the sun all day. You can book these on-line or give us a call to dicuss your requirements.

19th May 2019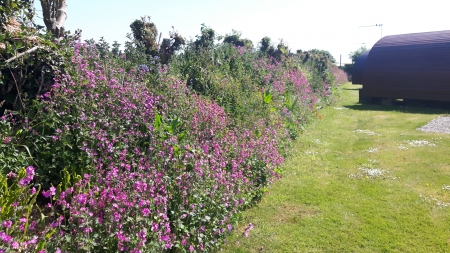 May Bank Holiday
What fantastic weather we've just had over the May Bank Holiday! The forecasters were all over the place with predictions, they mostly agreed on a thunderstorm but were unable to agree on the date, as it happened it was a big one but it was in the evening and had little detrimental impact on our guests, in fact I think most of them enjoyed the spectacle. Other than that the weather delivered an excellent weekend which was greatly appreciated by our guests. Our main challenge was keeping the grass to a reasonable length, a good problem to have really.
If we look on the weekend as a trial for the Summer break then we all in good shape, I would be surprised if we have a day with more arrivals than we did on Saturday.
We have not carried out many obvious changes to the site. We have added a Volleyball/Badminton net in the end field, added some radiators in the shower block (hopefully not required for a few months yet) and done some heavy pruning on some of the perimeter hedges to enhance the views.
The weather is holding up into June, lets hope the summer makes up for the winter we have just had. If it does then you should get your pitch booked soon to avoid disappointment.
1st June 2018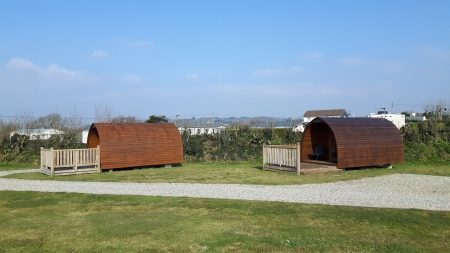 Refurb for our Pods
We have given our pods a minor facelift this year. Outside they have some minor repairs, a few new coats of wood protector and the decks have been cleaned. Inside there are new floors and we now include basic tea and coffee making equipment. There is some availability for the Easter break so if you are watching the weather forecast and are worried about camping, this could be the solution (both Pods have heating and TVs)
24th March 2018